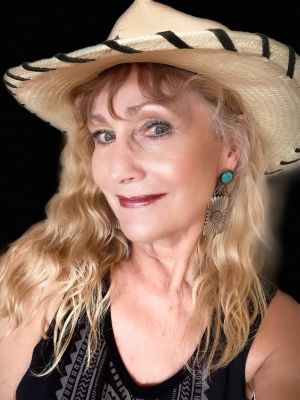 Born and raised in the very small town in Nebraska, Karen`s talent for art was encouraged from a very early age. Upon graduation from the Omaha School of Commercial Art at the age of 19, the Hallmark Card Company promptly hired her as a greeting card illustrator where she continued to work in illustration for Hallmark and other companies for nearly 20 years before venturing into the fine art market. She has also created collector plate series for the Hamilton Group and the Bradford Exchange, and illustrations and designs for children`s products for Roth International.
Before her recent move to New Mexico, Karen lived, raised a family, and professionally painted on the Flathead Indian Reservation located in Northwest Montana. Her renowned specialty is oil paintings of Native Americans, especially Indian children. Karen`s sensitive portrayal of pre- and early reservation Indians, using actual Native Americans modeling authentic period clothing and collectible artifacts, has generated a national following. Her meticulous, fine brush attention to the Indian`s exquisite and masterful use of bead and quill work is stunning.
Karen is the honored recipient of six Peoples Choice Awards from several premier Western art exhibitions including:
— 2016 Mountain Oyster Club Art Show ~ Wieghorst Award
BEST IN SHOW
— 2013 International Guild of Realism ~ BEST OF THE WEST award
— The Coeur d` Alene Galleries "Miniatures by the Lake" 2009 show
— The C.M. Russell Museum and Auction
— The Spirit of the Great Plains Invitational at the Museum of Nebraska Art
— The Stampede Western Invitational in Greeley, CO.
She won the Best Oil/Acrylic Award at the Cheyenne Frontier Days Old West Museum Show. She has also shown at the Eiteljorg Museum`s Quest for the West Show, the Cheyenne Frontier Days Western Art Show, the Coeur d' Alene Miniature by the Lake Show and Settlers West Miniature Show for many years.
Her work has been featured in numerous publications including:
Western Art Collector May 2018
Western Art Collector April 2016
Art of the West March/April 2013
Horses in Art… Spring 2012
Art of the West, 1999 Jan/Feb issue
Appaloosa Journal, Cover and feature article, April 1998 issue.